Although many people love mountains not everyone wants to engage in difficult and demanding climbs.
A Via Ferrata is the easy way to climb and allows you to reach places otherwise inaccessible.
The Via ferrata is a good compromise as it requires effort and energy to reach the top of the mountain while offering a high level of safety thanks to the use of ropes and brackets enabling the climber to move forward in a more secure and comfortable way. The via Ferrata offers inexperienced climbers the chance to reach peaks and positions normally reserved to expert mountaineers.
Now try to imagine the sense of achievement of reaching the summit of some of the most spectacular peeks right above the lake. Over there, you feel really good and the landscape is magnificent. You know when you feel in the right place and don't want to be anywhere else?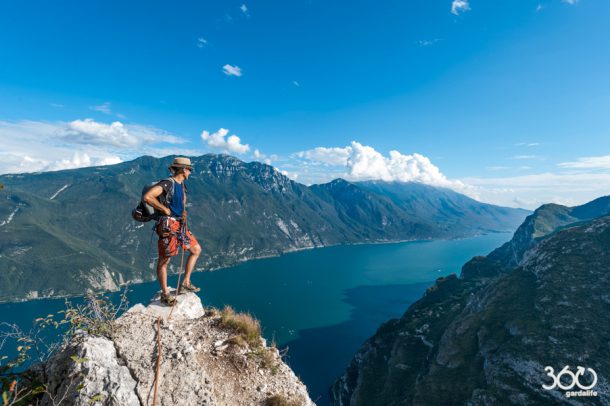 Climbing harness, a kit for ferratas  (Shock absorber with elastic lanyards and Karabiners),  a helmet, a pair of gloves and the usual and necessary equipment for trekking excursions are compulsory on a via ferrata.
For a safe climbing it's important to know how to use the two lobster claws to be clasped one after the other, unhooking the second one only when the first one has been securely clasped to the cable, after the fixing nail.
For beginners I suggest to start gradually with easy Ferratas and, if possible, take some lessons on equipped trails or try your first climb with an alpine guide.
If you want to try this  wonderful outdoor activity you could start with the Via Ferrata of Monte Colodri, in Arco, suitable even for children, or the Via Ferrata Rio Sallogoni of Castle Drena.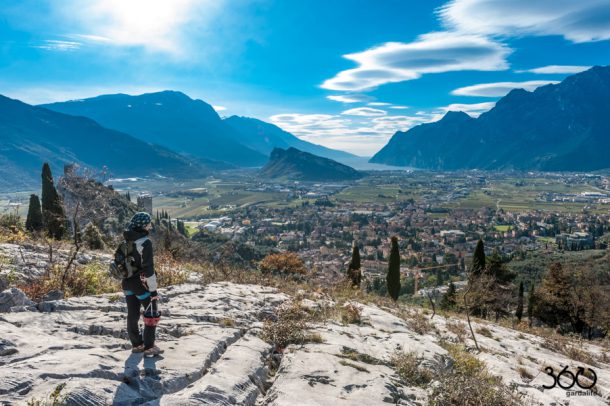 The Via Ferrata F. Susatti, better known as Cima Capi is a must do on Lake Garda.
The Via is well equipped having been totally renovated in 2009. Despite the relatively easy route, experts in Via Farrata  will be satisfied with the amazing views over Lake Garda.
If you have some experience and don't suffer from vertigo try the via dei Contrabbandieri.
The via dei Contrabbandieri is a non-equipped trail, cut into the rocks  overhanging the Lake.
The Via has breathtaking views, wild and amazing, high above the lake.
You are in for an awesome  adrenaline fueled excursion you will not forget.
Take this trail with a guide if you are not experienced; the reassuring presence of the guide will guarantee maximum safety.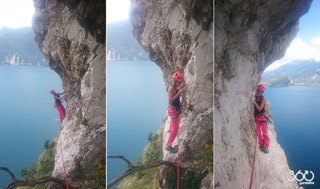 Vie ferratas at Lake Garda:
Trentino Alto Adige:
Via ferrata dell'Amicizia or Cima S.A.T

Via ferrata Che Guevara – Monte Casale

Via ferrata Rino Pisetta

Via ferrata Gerardo Sega – Monte Coalaz
Veneto:
Via ferrata delle Taccole at Monte Baldo – Vetta delle Buse
Have a great time on the Ferratas and please always make sure to have the most suitable equipment for your total safety and a stress-free experience.
Angela